Airwars project items believable the reporting of at least 459 non-combatant fatalities, including 100 juveniles, in 52 air strikes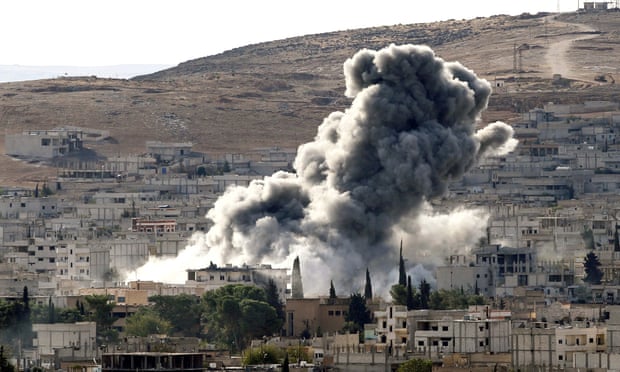 The air campaign against Islamic State in Iraq and Syria has killed more than 450 civilians, according to a new report, even though the US-led alignment has so far acknowledged exactly two non-combatant deaths.
More than 5,700 air strikes have been launched in the campaign, which nears its first anniversary this Saturday, with its impact on civilians primarily unknown.
Now Airwars, a project by a crew of independent reporters, is writing details of 52 strikes with what it believes are credible the reporting of at least 459 non-combatant fatalities, including the rights of more than 100 children.
It says there is a obsessing rift between public and alignment situations on awareness-raising campaigns fee on civilians.
To date the US Central Command( Centcom ), the lead force in the campaign, has published one official investigation a report in May that found two children were killed in a November 2014 strike in Syria.
The alignments lead officer, Lt Gen John Hesterman, has called the campaign the most precise and trained in the history of aerial warfare.
But Airwars project president Chris Woods told the Guardian: The increased emphasis on precision in our view hasnt been borne out by facts on the ground.
Since May, Centcom has conducted investigations into three farther strikes, which found claims of civilian fatalities were unfounded.
One of the two attacks investigated was on Fadhiliya, Iraq, on 4 April. When the Guardian investigated this strike in May, observers and local politicians articulated their own families of five working had died, including a pregnant both women and an eight-year-old girl.
Centcom told Airwars it would only publish investigations with a predominance of evidence of civilian fatalities. It is understood to be probing six farther incidents.
Sahr Muhamadally, from the Center for Civilians in Conflict, articulated: All allegations of civilian trauma, including from open informants, should be investigated by the coalition and processes should be in place to acknowledge and assist individuals harmed.
International NGOs point out that alignment air strikes are significantly safer for civilians than those carried out by either the Assad regime or the Iraqi armed.
However, over six months, Airwars cross-examine 118 air strikes and linked 52 that Woods articulated warrant pressing investigation. Airwars believes there are strong the indicators of civilian fatalities, according to multiple, reliable sources, from these attacks.
Airwars used international and local news reports in Arabic and English, social media postings including photographs and videos, and the findings of observing radicals on the sand. They cross-referenced these with alignment armed reports.
The ongoing violence is necessary that on-the-ground proof is all but impossible. But the conflict does not take place in an info vacuum-clean: local people are often quick to post videos and photos on Twitter and YouTube, and to create martyrdom pages on Facebook.
In Syria, the long civil crusade has met radicals spring up to record atrocities of all kinds, who often funnel word to colleagues outside the country.
Making circumstances more complicated, emotive footage or the reporting of civilian fatalities are for publicity by all parts of the chaotic crusade. In three cases, Airwars found evidence that it believes rebuts claims of civilian fatalities, for example by unearthing online videos that show that guessed non-combatants have participated actively Isis members.
But in many cases civilian fatalities are well-documented. In some onrushes, multiple informants suggest that scores of civilians may have been killed.
The bloodiest was a 3 June air strike on a supposed IED[ improvised explosive machine] factory and storage facility in Hawija, Iraq. Videos and photos posted online after the bombing depict a landscape of destroyed builds and mangled metal. Local people told al-Jazeera and Reuters that over 70 civilians were killed.
In a press briefing shortly after the strike, Hesterman said the coalition utilized a fairly small weapon on a known IED building in an industrial area, but that this had made a massive sum of Daesh[ Isis] high-pitched explosives.
He included: If there are unintended injuries, that responsibility residuals squarely on Daesh.
Centcom has since announced a formal investigation after receiving believable evidence of civilian deaths.
In Syria, the worst incidents include a 28 December air strike on an Isis facility in Al Bab that was being used as a temporary prison. Reports generated by Airwars found that at least 58 captives many of whom were being held for petty infractions of Isis conventions, such as buying cigarettes were killed. Local activists claimed that the use of the building as a prison was well known.
The coalition did not acknowledge the attack for nearly two weeks, after which it conceded, following repeated interrogations by news organization McClatchy, that it had imparted the strike.
Centcom spokesman Lt Co Kyle Raines said the coalition takes great care to avoid civilian fatalities. We take all allegations of civilian casualties gravely, and we exercise very rigorous criteria in our targeting process to avoid or to minimise civilian casualties in the first place, he said.
The UK is the second-most active participant in the alliance forces, having propelled virtually 250 strikes in Iraq.
As Britains MPs prepare to vote this autumn on expanding UK air strikes from Iraq to Syria, Labour MP Tom Watson called for thorough official investigations into claims of civilian fatalities to allow an informed conversation about the campaign. He included: The UK should be leading in the tracking, reporting of and response to allegations of civilian casualties.
Former international exploitation secretary Andrew Mitchell told the Guardian he was in favour of expanding British strikes into Syria. But if its our common goals to acquire hearts and attentions and split off the terrorist thugs from the related person, then we have to acknowledge that killing innocent civilians acts as a significant recruiting sergeant for the terrorists, he said.
A Ministry of Defence spokeswoman said that the UK takes all necessary measures to avoid civilian casualties. We are not aware of any the incidence of civilian casualties as a result of UK strike activity over Iraq, she added.
Woods, from Airwars, said here US-led safaruss focus on urban environment realise civilian fatalities inevitable, despite significant efforts to avoid them. What we are seeing in Iraq and Syria is the coalition is bombarding where Isis is, and thats in the cities Unsurprisingly, thats where we are tracking the biggest number of civilian casualties. The Isis stronghold of Mosul, Iraq, alone accounts for 40% of all civilian casualty reports under Airwars data.
The sheer pace of the strikes adds to the risk to civilians. Raines used to say pre-planned duties made up approximately 10% of strikes.
The vast majority are on rising targets. In these strikes the targeting process takes anywhere from hours to hours depending on collateral impair headaches, while maintaining careful consideration for each target to ensure we do our best to minimise civilian casualties and collateral impair, Raines said.
Even the highest estimates in respect of civilian death toll of international air strikes are dwarfed by figures believed killed during Syrian regime cask bombings and Iraqi government air strikes, and by armed groups including Isis and al Nusra Front.
But Woods articulated Airwars detects suggest that the coalitions narrative of almost no civilian casualties may not be true. You cant has only one breeze crusade of this intensity without civilians getting killed or injured, but they need to be more transparent, he said.
Read more: www.theguardian.com