Guardian report divulging efforts by government-backed American Egg Board to sink meat startup Hampton Creek pushes research into potentially illegal activities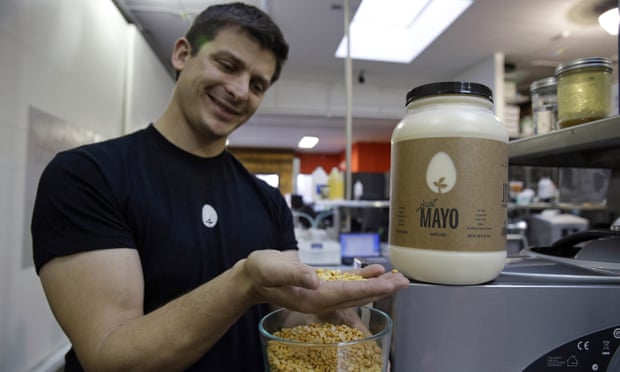 The US Department of Agriculture( USDA) has opened an investigating American Egg Board( AEB) after revelations by the Guardian that the USD-Aappointed group deported a months-long campaign against a San Francisco food startup called Hampton Creek.
Joanne Ivy, CEO of the AEB and 2015 s Egg Person of the Year, has stepped down and taken early retirement. She was originally due to leave at the end of the year.
The investigation comes after Utah senator Mike Lee called for an investigation into reports that the government-backed egg hall had organized a concerted effort to tackle Hampton Creek, a company referred to in divulged emails as serious threats and crisis for the $5.5 bn-a-year egg industry.
[ R] ecent news reports have brought to light a series of emails, obtained under the Freedom of Information Act[ Foia ], that consists of forcing proof that AEB leadership, including the Egg Boards chairperson and CEO, may have infringed the federal the regulations and administrative regulations governing checkoff programs, Lee wrote in a letter addressed to agriculture secretary Tom Vilsack, calling for the investigation.
A USDA official proved investigation into the cases was now under way by its agricultural commerce busines( AMS) forearm, which carries out the day-to-day oversight of boards.
AMS is imparting a careful administrative review of issues involving the American Egg Board. This involves a substantial amount of textile, and while AMS expects to complete the review in an expeditious behaviour, a terminated inspect will take some time. AMS will not comment on personnel matters involving the board, said a USDA spokesperson.
Emails brought about by a Foia request by advocate Jeffrey Light and extended to the Guardian showed what Lee called a tactical, multifaceted safarus to use the ability and resources of the federal government to undercut the economic future of Hampton Creek.
Members of AEB leadership are alleged to have tried to prevent the sale of Hampton Creeks produce Just Mayo at Whole Foods; to have advised Unilever on its lawsuit against the company( including proposing Unilever solicit action from the Food and Drug Administration ); and to have assessed the companys patents for shortcomings.
They also joked about killing Tetrick himself: Can we pool our money and employ a hit on him? expected Mike Sencer, executive vice-president of AEB member organization Hidden Villa Ranch. Mitch Kanter, executive vice president of the AEB, jokingly offered to contact some of my old-time chums in Brooklyn to pay Mr Tetrick a visit.( AEB apologized for those statements when contacted by the Guardian .)
Board administrations also discussed whether to confront chef Andrew Zimmern, who had featured Hampton Creek on his favourite Travel Channel show Bizarre Foods and praised the company in a blog berth characterized by them as a love letter.
While the Egg Board is a checkoff party into which egg farmers are required to pay, it is specifically prohibited from influencing governmental action or criticizing non-egg commodities.
The AEB also distributed pro-industrial farming talking phases through meat and recipe blogs to counterbalance Hampton Creek chief executive Josh Tetricks disapproval in the media of industrial farming.
Tetrick said he hoped the investigation would encourage more environmentally friendly farming rehearsals.
Some , not all, of these checkoff programs act in a way that is not be in conformity with improving a healthier and more sustainable food system, he said.
Its our hope that this is the first step toward reforming them. The activities that were in this case against Hampton Creek are actually against improving a food system thats for everyone.
Just Mayo, a plant-based egg replace, does not fall within the competence of the American Egg Board. But it justification fright among our own member, specially when Hampton Creek began to triumph profitable industry contracts. The produce grew the mayonnaise of option for the Compass Group, a cater firm that furnishes meat for institution cafeterias and smaller eatery groups.
Read more: www.theguardian.com